by

lexie

Mar 19, 2013
0 comments
Don't let anyone tell you differently, there are "industry tips and tricks" that make professional baked goods different from the ones you typically make at home. However, they are just that, tips, not magic. So here is one of our favorites. Be sure to check back often and feel free to contact us with a particular baking question.
Blind-Baking - Some of you probably feel like you are flyin' blind in all of your baking, but this is the secret to fully cooked, super crisp crusts in all of your pies and tarts. It takes a little more work and a little more time but the results are worth it.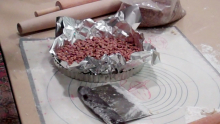 By definition, blind baking means to bake a pie crust without a filling. There are several techniques used to ensure that the pie crust holds it shape when baked empty. Pie weights can be placed in the frozen shell to keep it from puffing or the shell can be lined with foil and filled with dried beans or peas. It is immediately placed in a 375-400 degree oven and baked 20-30 minutes or until the edges are golden. You are not done yet though, remove the pie from the oven and carefully take the pie weights or bean laden foil out of the shell. You will notice the bottom is not fully cooked or dry. Put the now empty shell back in the oven and bake 5-10 minutes more just until the bottom crust is dry or desired color is reached.
Whew! You can now fill the pie with mousse, cream filling and even a filling that goes back into the oven. Don't worry, the shell will not over-bake. The bottom crust is protected and if the edges get a little dark, cover them with foil during the remainder of the baking process.